PROFESSIONAL EXPERIENCE
MICHELE OZUMBA AND ASSOCIATES Atlanta, GA • 2019 - present
PRINCIPAL
Provides research, coaching, strategy and organizational development consulting and learning experiences to promote diversity, equity and inclusion for organizations and their leaders worldwide.
WOMEN'S COLLEGE COALITION Atlanta, GA • 2015-2019
PRESIDENT
Provided executive leadership to a membership network of women's colleges and universities in the United States and Canada devoted to transformational higher education and success of women in the world:
• Launched a monthly E Newsletter reaching over 500 subscribers.
• Led board of directors in setting new strategic direction focused on new media & communications strategy, increasing member engagement, and developing a new business model for future sustainability of the organization.
• Secured first time external corporate sponsorship for WCC conferences.
• Grew the annual member conference from 50 to 150 attendees between 2016-2017.
• Presentations at national, international, and college-based events on the value and relevance of women's colleges today.
WOMEN'S FUNDING NETWORK (WFN) SAN Francisco, CA • 2011-2014
PRESIDENT & CEO
Led the largest philanthropic network of women's funds and foundations devoted exclusively improving the lives of women and girls around the globe:
• Increased membership by 25% in two years.
• Raised $2.1 million in new revenue.
• Achieved 500% increase in social media following because of new communications products and strategies, including the launch of a new website.
• Leveraged a $300K grant award to create the Partnership for Women's Prosperity (PWP), a $3 million national initiative on women's economic security led by WFN member foundations that created training and education for 14,000 women across the United States.
GEORGIA CAMPAIGN FOR ADOLESCENT PREGNANCY PREVENTION (GCAPP) ATLANTA, GA • 1999-2011
PRESIDENT & CEO (2001–2011)
Executive leadership, organizational development, fundraising, budget management, strategic planning, and overall program operations for statewide non-profit with a $3 million budget and a staff of 18:
• Led a major board development and strategic planning process that expanded G-CAPP's platform and influence across the state.
• Increased reserve funds from $200,000 to $1 million.
• Grew annual fundraiser revenues from $500,000 to $1 million.
• Expanded programming from three metro Atlanta counties to 16 counties in Georgia.
• Achieved 30 percent reduction in Georgia's teenage birth rate over a decade of programming, leading collaborative networks, and advocacy.
POLICY DIRECTOR (1999–2001)
Directed GCAPP's statewide policy and advocacy strategies:
• In first year, raised $130,000 to support the establishment of the policy office. Initiated the creation of the GCAPP Adolescent Services Network (ASN) to provide a forum for adolescent service providers in metro Atlanta to collaborate on service coordination strategies and establish an annual advocacy agenda for adolescent health and wellness issues.
• Successfully led the organization's campaign to bring two innovative national replication projects to Georgia designed to create a holistic approach to teenage pregnancy prevention and support for adolescent mothers.
• Successfully advocated for creating a new network of residential homes for teenage mothers in foster care that resulted in $2.4 million funding from the state of Georgia to establish 7 Second Chance Homes, a threefold increase in the number of beds for homeless teenage mothers and their babies in the state.
DIVISION OF PUBLIC HEALTH, GEORGIA DEPT. OF HUMAN RESOURCES Atlanta, GA • 1995–1999
PROGRAM DIRECTOR, OFFICE OF ADOLESCENT HEALTH
Led expansion of state Office of Adolescent Health:
• Increased the adolescent health budget from $3.5 million to $11 million.
• Directed the creation of the Teen Plus Initiative which established 27 teen health clinics throughout Georgia.
• Coordinated statewide training and technical assistance to county health departments and community stakeholders.
• Produced state and national presentations highlighting the status of Georgia's adolescent health, promoting evidenced-based program strategies, and benchmarking progress and measurable results in reducing the state's teen birth rate.
GEORGIA SCHOOL-AGE ASSOCIATION Atlanta GA • 1994–1995
RESEARCH AND DEVELOPMENT ASSOCIATE
• Analyzed socio-economic trends as basis for policy recommendations for after school care for early adolescents.
• Edited quarterly newsletter, produced a technical series, "Getting Started," a how-to guide for after school programs for school-age children.
• Secured the organization's first private foundation grant awards totaling $200,000.
UNIVERSITY OF NIGERIA, FACULTY OF ENVIRONMENT STUDIES Enugu, Nigeria • 1982–1994
SENIOR LECTURER
• Served as Department Chair, 1991-1993.
• Led Department through professional accreditation by Nigerian Institute of Estate Surveyors.
• Taught Introduction to Urban Planning, Urban Land Use Economics.
• Supervised final year student dissertations.
• Co-investigator, first national study on Child Abuse and Neglect in Nigeria, resulting in creation of child abuse reporting centers in three major urban areas.
NEW BRUNSWICK TOMORROW, INC. New Brunswick, NJ • 1980–1982
PLANNING CONSULTANT
• Provided professional guidance to New Brunswick Tomorrow's public/private urban revitalization task force led by John Heldrich, President (former), Johnson & Johnson Corporation.
• Conducted employer demand and labor supply analysis among local industries and workforce.
• Developed economic development plan for education and retraining for low-income, entry level workers.
• Wrote proposal resulting in $250,000 grant award from state Department of Labor to fund the implementation of skills training and job placement.
RUTGERS UNIVERSITY New Brunswick, NJ • 1980
ADJUNCT LECTURER
• Instructor in organizational dynamics in the School of Labor Relations.
---
EDUCATION
Master's City & Regional Planning (MCRP), Rutgers University, New Brunswick, NJ
B.A., History and Political Science, Douglass College, New Brunswick, NJ
---
PROFESSIONAL AFFILIATIONS
The Conversation US, Board of Directors 2018-present
Jeannette Rankin Foundation, Board of Directors 2015-present
International Women's Forum (IWF), Member 2013-present
Fast Company Magazine Extraordinary Women 2012
Leadership Atlanta 2009
Association of Reproductive Health Professionals, Member 2007-2010
James P. Shannon Leadership Institute, Minneapolis, MN 2007
Healthy Teen Network, Past Board Chair, Secretary, 2005-2010
National Advisory Council on Sexual Health, Member 2005-2006
Atlanta Women's Foundation, Board of Directors 2003-2010
---
INTERNATIONAL CONFERENCES
Association of African Women for Research & Development Senegal 1998
Leon H. Sullivan Summit Abuja, Nigeria 2004
PROMETRA International Presidents Annual Meetings Senegal 2001-03, 2005
African Women's Organization for Millennium Initiatives (AWOMI) Senegal 2006
Association of Women in Development (AWID) Istanbul, 2012
Emerging Markets Symposium at Oxford University Oxford, UK 2012
Women Deliver Annual Conference Malaysia 2013
Clinton Global Initiative Annual Meeting New York, 2013
Women's Funding Network Cross-Cultural Training Accra, Ghana, 2014
UN Commission on the Status of Women (presenter) New York 2014
Global Forum on Girls Education New York 2015
Women's Higher Education for Leadership & Social Innovation Jaipur, India 2017
Asian Women's Leadership Forum Nanjing, China 2018
---
PUBLICATION
Co-Editor, Junctures in Leadership: Women Leaders in Higher Education, Rutgers University Press, 2020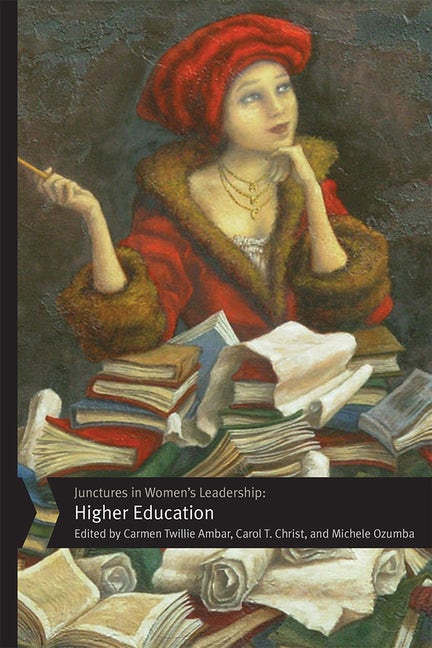 About this book
Junctures in Women's Leadership: Higher Education illuminates the careers of twelve women leaders whose experiences reveal the complexities of contemporary academic leadership through the intersection of gender, race, and institutional culture. The chapters combine interviews and research to create distinct case studies that identify the obstacles that challenged each woman's leadership, and the strategies deployed to bring about resolution. The research presented in this volume reveals not only theoretical factors of academic leadership, but also real time dynamics that give the reader deeper insights into the multiple stakeholders and situations that require nimble, relationship-based leadership, in addition to intellectual competency. With chapters written by many of today's leading women in higher education, this book brings into sharp focus the unique attributes of women leaders in the academy and adds a new dimension of analysis to the field of women's leadership studies. Women leaders interviewed in this volume include Bernice Sandler, Juliet Villarreal García, and Johnnetta Betsch Cole.

Buy Here!